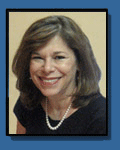 Mindy Stein was honored with the Volunteer of the Year Award at JARC's annual gala on March 13, 2011. The award was given for providing pro bono services to a JARC resident whose family in New York was trying to force him to leave Florida and return to New York.
JARC is an independent 501 © (3) organization and a founding member agency of the Jewish Federation of South Palm Beach County. It is a nonprofit, non-sectarian organization that operates 10 group homes for adults with developmental disabilities. The homes are located in the Boca Raton/Delray Beach area of South Florida. JARC also offers apartment living for those who do not require 24-hour supervision as well as vocational training in its state-of-the-art Mel & Elaine Stein Living and Learning Center. http://jarcfl.org/
Stein states,"

The ultimate result was the judge's decision to allow appointment of a guardian advocate for the resident; a cousin in Florida that was selected by the resident...

Our resident had his day in court; the judge listened, and the resident prevailed. The appointment of the guardian advocate means that the resident will be able to stay here at JARC for the rest of his life."